The centre of Spelsbury village is dominated by a large stone fountain which once provided the main supply of fresh water for the community. The fountain was built around 1855 as a memorial to The Hon. Constantine, son of the 13th Viscount Dillon who drowned aged 40 while fording a flooded river in New Zealand.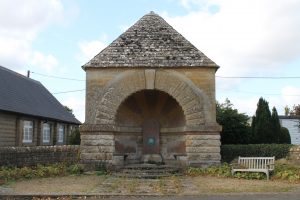 Unlike its smaller sister fountain at Taston, the Spelsbury memorial is not listed. The memorial consists of a polished granite tablet, with lion's head water spout, set within a shell niche with red and buff sandstone stripes in a rusticated arch. The original bronze lion's head was stolen in the 1990s and has been replaced with a concrete cast. A gilded banner on the outside of the arch is almost indiscernible.
Described by Pevsner as 'hideous' the fountain is none-the-less an important and now much loved focal point of our community.
In modern day use the fountain, now dry, serves as a meeting point; a rest-stop for walkers and cyclists passing through the village; a shelter for people waiting for school or public transport; it is the subject of many paintings by art-class students in the memorial hall; well photographed by passers-by; a feature of many local treasure hunts, and a site of interest to social historians.
Remaining in the ownership of the Dillon family until 1958, the fountain has recently been transferred to the trustees of the adjacent Memorial Hall, to be maintained for the benefit of the community and local heritage.