Parts of Spelsbury Parish are served by public transport running between Chipping Norton and Witney;  the Pullhams' X9 timetable is available here; and between Chipping Norton and Oxford, the Stagecoach S3 timetable is available here
Charlbury has a good rail link to London/Hereford.
Most parish residents commute out of the community for work or study, with many households owning two or more vehicles – which means that there are often a lot of vehicles trying to fit into our narrow lanes and onto verges; we are all asked to be mindful of neighbours access, verges and green spaces.
Parish Magazine
Please send all items of news and announcements to Mrs C. A. Magee, Glebe Cottage, East End, Chadlington Tel: 01608 676 335
To submit copy by email please send to cheryl@redstonecomputers.co.uk
Spelsbury WI
Spelsbury WI meets on the third Tuesday of most months, usually  at  Spelsbury Memorial Hall, 7.30 – 9.30 pm.
For more information please contact Carrol Eaton mrscarroleaton@gmail.com

The Women's Institute (WI) was formed in 1915 to revitalise rural communities and encourage women to become more involved in producing food during the First World War. Since then the organisation's aims have broadened and the WI is now the largest voluntary women's organisation in the UK.
The WI celebrated its centenary in 2015 and has over 210,000 members in around 6,600 WIs.
The WI plays a unique role in providing women with educational opportunities and the chance to build new skills, to take part in a wide variety of activities and to campaign on issues that matter to them and their communities.
See more at: www.thewi.org.uk
Good Neighbours
Do you need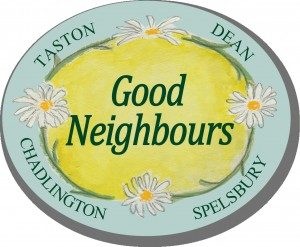 help with jobs around the house, light gardening, shopping, walking or feeding a pet, filling in forms, transport to medical appointments, or support as a young mum, after a hospital discharge… Good Neighbours provides support to all members of Chadlington, Dean, Spelsbury and Taston. Good Neighbours are happy to help anyone, regardless of age, and can offer a wide range of support – if they cannot help they will try to suggest other options for support. All Good Neighbours volunteers live in the community, many are familiar faces, they are all police checked through the Disclosure and Barring Service and carry ID. It is important  to remember that they are volunteers, not professionals, and there are some things they will not be able to help with, such as providing personal care. Telephone 07541 235002 for more information on receiving support or becoming a volunteer.
Charlbury has a post office, two small supermarkets and other shops; a primary school, churches, library, surgeries for doctors, dentists and vets, garage services (not fuel), hairdressers  and barbers; pubs & inns offering a good range of food and real ale; campsites and more…
Chadlington  has a church and Methodist chapel, shops, a cafe and a pub; mobile post office services, garage services (not fuel) a primary school, and an Abbeyfield Society home. Cafe de la Post delivers newspapers to much of Spelsbury Parish.
Chipping Norton is a larger town, with primary and secondary schools, a library, a theatre, a lido (open in the summer only) and leisure centre, a hospital (not A&E) doctors, dentists and vets, churches, many shops and supermarkets, restaurants, hotels, pubs and inns, a golf course, garages (with fuel), a garden center and more…
Enstone has a shop and post office; a petrol station; primary school; church; pubs and a gallery.
Milk and More delivers fresh milk three times a week.
The Wychwood Chorale, with Bernard West as its musical director is a friendly and non-auditioned choir of about 50 singers. We meet on Tuesdays 7.30-9pm in St Nicholas' Church, Chadlington during term time. We have a varied repertoire drawing from traditional, classical, sacred and popular music.  Each term we hold a concert and raise money for charity. If you would like to join us please come along to a rehearsal we would love to see you.  Alternatively if you would like us to participate in your charity event please contact us through our website.
Parish maps: