Spelsbury War Memorial Hall, a registered charity (no 304370), was built in 1921 as a memorial to the people of the parish listed on the  rolls-of-honour, who served in WW1 (until boundary changes in the mid-1980's Spelsbury Parish also included the hamlet of Fulwell).
The hall is available for hire and offers the main hall with a small stage; a small meeting room/serving area; a kitchen with fridge and catering size cooker (the hall has some crockery that can be used but no cutlery or glassware); a bar area for hot and cold drinks with a direct feed hot water boiler and fridge, with a serving hatch from the bar into the main hall; we have free wi-fi, there is an accessible toilet and baby changing facilities.

The Hall is licensed to  accommodate up to 125 people (100 seated); there are 99 chairs, 10 large rectangular tables and 10 small square tables.

If you would like to book the hall please see contact us at memorialhall@spelsbury.org or telephone 07583035222 for more information about availability. The hall is ideal for classes, exhibitions,  talks and small social events; we  are unable to take bookings for parties with loud amplified music.

Regular activities in the hall include meetings of Spelsbury Parish Council, art classes, dance classes with Chipping Norton School of Dance and yoga classes.
The hall, and the adjacent water fountain, is cared for by a small voluntary team of Management Trustees; ownership of the buildings is vested with the Official Custodian for Charities.
The charity holds an annual public meeting in October, at which Trustees are appointed for the coming year; the current Trustees are: Helen Datson, Maxine Hobill, Rick Leyland and Hugo Pickering.
See the Charity's registration details on the Charity Commission website.
The Hall's original mission was 'to be used for the purposes of physical and mental recreation and social moral and intellectual development through the medium of reading and recreation rooms, library, lectures, classes, recreations and entertainments or otherwise as may be found expedient for the benefit of the inhabitants of the Parishes of Spelsbury and Taston in the County of Oxford and their immediate vicinity without distinction of sex, political or other opinions subject to the provision of these premises.'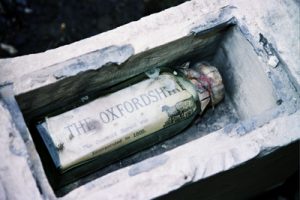 The hall was refurbished in 2004 at a cost of £180,000, much of this sum was raised through village events and appeals.
During  the refurbishment a time capsule was discovered – and replaced in the wall with a few extra items added.